"Best Hybrid Tea Rose in the Nation"

awarded to

Tim Hartranft of The Lancaster Rose Club.

Tim Hartranft wasn't planning to go the American Rose Society's Fall Convention and Rose show this year. It was being held in St. Louis and Tim said he just wasn't thinking of going. But friends and fellow rose growers Dave and Susie Ackers asked Tim several times to go with them. Tim finally accepted their invitation.

Today he is glad he went and very glad he took a rose named "Pop Warner" with him as his sole entry into the Hybrid Tea Specimen Rose competition.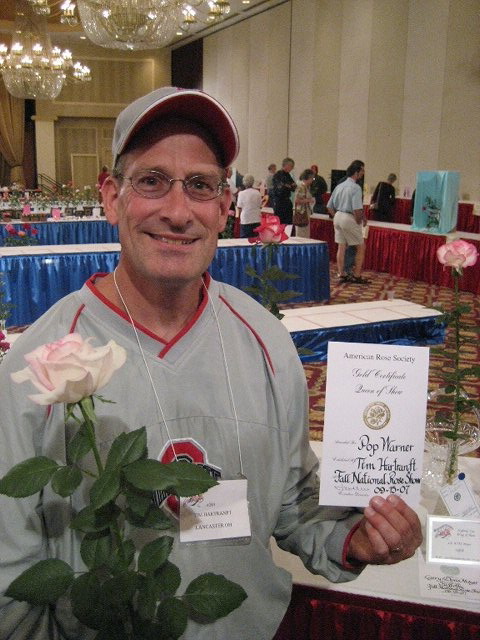 From all over the nation, rose growers gathered. Several hundred people attended and many spent Saturday morning grooming and preparing their roses for competition for "Queen" the highest award of the Hybrid Tea Specimen Class.
Tim, who lives with his wife Melissa and son on East Mulberry Street returned from St. Louis with that coveted "Queen" trophy. Unlike many exhibitors who enter numerous specimens for the top honor, Tim only entered one specimen. The rose, "Pop Warner" was picked as being the best in the nation. A team of horticultural judges from across the country decided that after meticulously reviewing hundreds of roses in the Hybrid Tea class.
Tim planted that rose about 5 years ago but said he has never won Queen of local or regional shows with it. He now has bout 240 roses, mostly hybrid teas, but he also has floribundas, grandifloras, shrubs, miniatures and some other types of roses in his garden.
In his early years when he started with 15 plants, he recalled that his first hybrid tea "Queen" was with a "Carry Grant" rose, an orange-red blend. He followed that win with "Headliner" a white-red blend a year or two later. Both of those wins came at the Lancaster Rose Club's annual Rose show.
When not working as the "head of frozen foods" at Kroger's East store in Lancaster, Tim spends about 2 hours per day caring for his garden. Tim said he took care of his grandma's roses years ago and just started liking them.
Tim said Les Duffey of Logan started him on the path to rose growing about 22 years ago. "And in recent years, Dave Ackers has been the exhibitor most knowledgeable and helpful to me." Tim added that being a member of the Lancaster Rose Club has provided him with an education from many good growers over the years.
Tim's secret to growing a national champion rose is to grow a healthy bush. If you have a healthy bush, with no disease or insect damage that has been fed the right fertilizer and cared for on a regular basis, you will have winning blooms. He added that roses just want to have your attention.
At 48 years old, Tim says he hopes to have more roses in the future that can match the success of this year's specimen. He said it was great walking into the exhibit hall with Dave and Susie and people all around started clapping. Tim said, "I thought Dave had won Queen" and was stunned when they began congratulating me.
Eddie Edwards, the man who hybridized the "Pop Warner" was there to greet Tim along with American Rose Society President Steve Jones and past president Marilyn Wellan. Tim commented that he won "Queen" at the Central Ohio Rose Society's show earlier this year with a "Marilyn Wellan" rose.
Tim also won the best in the nation in the "English Box" hybrid tea category of 6 rose blooms at this year's annual event.
Dave and Susie Ackers
win 6
American Rose Society Trophies.
Ackers won hybrid tea "Princess" (3rd place) with an "Uncle Joe".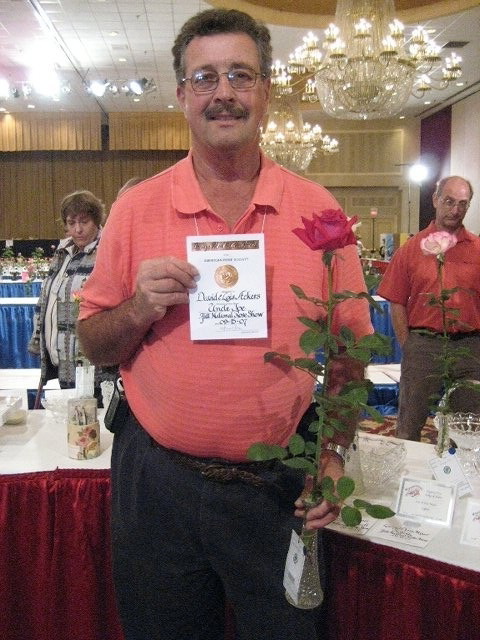 They also had two other roses on the court. The court is the final round from which the Queen, King and Princess is chosen. Dave's court roses were, "Hot Princess" and "St. Patrick".
The Ackers also won the "Picture Frame" award with "Dublin", the "Floating Bowl" national trophy with "Moonstone", and "Stages of Bloom" award with "St. Patrick".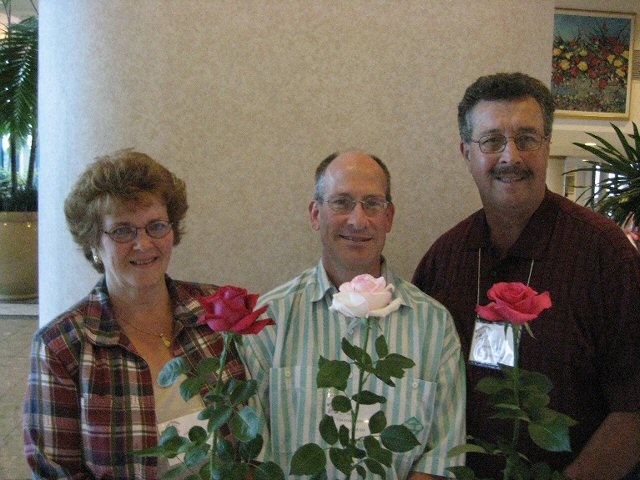 Susie Ackers - Tim Hartranft - Dave Ackers
The Lancaster Rose Club has voted to host the
American Rose Society's
Buckeye District Convention and Rose Show next September.
Exhibitors from Ohio and adjoining states are expected to attend this annual event.
Hybridizer Eddie Edwards has told ARS District Director Jim Zimmerman he is willing to be a guest speaker at the Lancaster sponsored event.